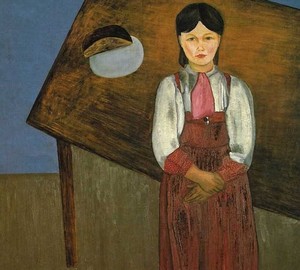 Description of the picture:
Aniska – David Petrovich Shterenberg. 1926. Oil on canvas. 125×197
D.P. Shterenberg (1881-1948) was one of the active organizers and members of the Society of Easel Artists. The master's works are characterized by expressive pointedness of images, laconic composition, generalization and clarity of the picture, deliberately planar construction of space.
However, the heroine of the artist is not a cheerful, contented athlete, but a peasant girl, in whose mind the memory of the famine of the 1920s was forever preserved. She stands near the table, on it is a plate with a crust of brown bread. The table is completely empty, this is a bare field with only one symbol-object – bread. Sterenberg refuses a detailed reproduction of reality, creating a conditionally illusory blue-brown space.
By stingy, but finely tuned means of color and composition, Sterenberg recreates the tragedy of the era."