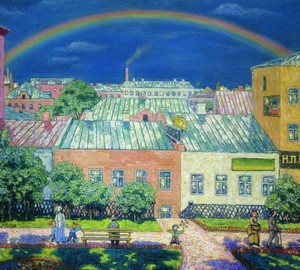 Description of the picture:
Moscow landscape. Rainbow – Nikolai Petrovich Krymov. 1908. Oil on canvas. 59×69
Canvas "Moscow landscape. Rainbow "occupies a special place in the work of Krymov. It combines the symbolist vision of the world and the artist's impressionistic quest: the rainbow is literally laid out in colors, and the landscape itself as a whole is a mystical correspondence between the heavenly and the earthly world in the eyes of the symbolist."