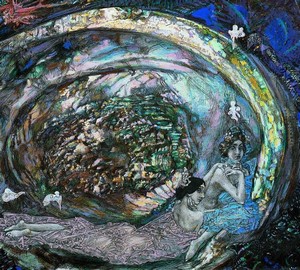 Description of the picture:
The pearl is Mikhail Vrubel. 1904. Cardboard, pastel, gouache, coal. 35×43.7
One of the last works of the great master. In it, he solves the most difficult problem – the transfer of natural mother of pearl in black and white.
The artist came up with the idea of ​​this work thanks to Voloshin's gift. The poet presented the master with a large sea shell covered with a thick natural layer of nacre. This erratic and iridescent material has become a source of inspiration.
In a small picture you can see the sea, and the night sky, and a mysterious alluring infinity. At first glance, random spots at some point turn into fantastic creatures soaring above the raging waves.
Two female figures – like ancient goddesses – calmly watch the audience from the world of immortals. Under their gaze, the viewer begins to feel uncomfortable. There is a feeling of the presence of something unknowable. Glance glides to the center of the picture, obeying the line and rhythm of work. The combination of shades of black and white, interspersed with blue, blue, lilac, yellow, green – create the effect of pearl overflow. The effect is so strong that many viewers change the angle of view of the work, expecting a change in the order of colors.
The work мейд a strong impression on colleagues and critics. At its core, this work is a testament of the artist."