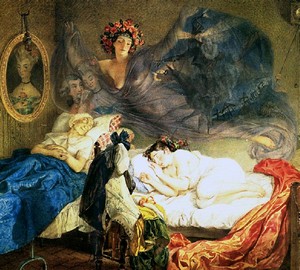 Description of the picture:
Grandmother and granddaughter sleep – Karl Pavlovich Bryullov. 1829. Paper, watercolor, bronze, varnish, 22.5×27.4 cm
After a trip to Italy, Bryullov became interested in genre painting. Often his stories and their implementation literally balanced on the very edge of high art. However, if the contemporaries of the painter could reproach him with a certain frivolity, then we, the descendants, can only admire the artist's elegant humor.
The painting "The Dream of Grandmother and Granddaughter", not only does the heroines display in such an intimate place as a bedroom, but also tries to penetrate the secret dreams of sleeping virgins of different ages. This is not the first time Bryullov has turned to such a composition, where a dream, as the main indicator of the most secret thoughts, is depicted as a naked woman in a transparent cloak that spreads her arms like wings.
What does grandmother and granddaughter dream about? Their thoughts are far from decent topics. An old woman, whose face is dotted with wrinkles, sees herself young, flirting flirtatiously with a daring young man in a wig with letters. The fact that she is in her youth is confirmed by the portraits of her grandmother's bed, and a gracious smile, frozen on the lips of a sleeping woman.
The granddaughter is still very young, and her dreams are far from all cupids – nightmares with dragon-like monsters and crosses of cemeteries torment the girl. Her face is restless, her figure is constrained, and the blanket almost fell to the floor.
Like all Bryullov's watercolor works, this painting is saturated with light and bright colors, and the ironic plot gives the masterpiece exceptional charm."