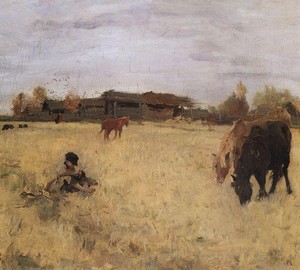 Description of the picture:
October. Domotkanovo – Valentin Aleksandrovich Serov. 1895. Oil on canvas. 48,5×70,7
Serov's landscapes are always special. Using all means of impressionism, the artist reliably conveys the impression of a bright October day. Peasant horses scattered across the burned out autumn field. A little barefoot shepherd is fixing his whip, which has been worn out over the summer. The black sheep, frightened by the white horse, anxiously strayed in the far corner of the field. Bright trees, dilapidated sheds, unsteady outskirts. All together creates an atmosphere of October, violent and colorful wilting. The picture is complemented by the autumn sky: heavy and low. The landscape ends with a croaking crow flying over the trees.
Colors are ingeniously selected: from yellow, through orange and red, to brown and black. Winter is just around the corner …"