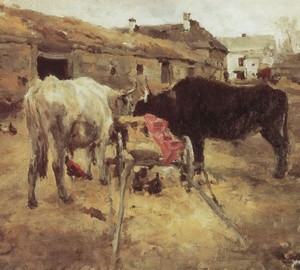 Description of the picture:
Oxen – Valentin Aleksandrovich Serov. 1885. Oil on canvas. 47×59
The sketch from the village life of "Oxen" is straightforward in the plot. Undoubtedly, the artist was attracted by color symmetry, vivid details.
Animal farm at the end of a hard day. At the cart with the hay met two oxen. Playing in black and white, the master embodies the idea of ​​the unity of opposites. Two bright details give the plot dynamism: a coverlet on a cart and a chicken at the feet of a white ox. The sand color of the earth and the barn creates a general neutral background, the white cloudy sky is designed to give the study a volume.
The study was written with bold, rough strokes, which testify to the remarkable talent of the young artist."