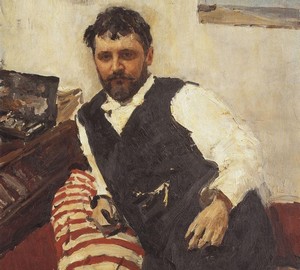 Description of the picture:
Portrait of the artist K. A. Korovin – Valentin Aleksandrovich Serov. 1891. Oil on canvas. 111,2×89
The portrait of Korovin is undoubtedly a joke of the great Serov. It is easy to see that in this work the artist changes his style. In this portrait, Serov tries himself in a new aesthetics for him. Moreover, he exaggerates the techniques of the Impressionists. Anyone familiar with Korovin's work will immediately notice "similarity" of this work of Serov with the works of the artist's colleague depicted.
But Serov is not in a position to completely change his manner. Korovin's face is spelled out expertly for sure. The sharp look of the artist, a subtle smile, full of good irony.
The work was created during an informal friendship, communication between two talented artists."