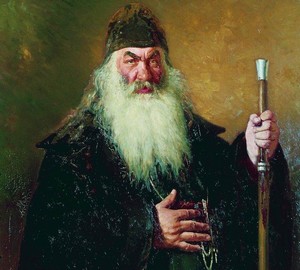 Description of the picture:
Ilya Efimovich Repin – Portrait of the Protodeacon. 1877. Oil on canvas. 97.5×125.5
Repinsky "Protodeacon" both terrible and beautiful. Terrified by its size, face, gaze. It is beautiful for its fabulous look, posture, confidence. Protodeacon, first of all, the owner of a strong, powerful voice. Looking at the portrait, everyone understands that we have a carrier of thundering bass.
The protodeacon holds his staff, like an ancient warrior, his sword. In general, the features of a Slavic pagan priest appear in the guise of a hero. Beard and eyebrows – a classic portrait of Santa Claus from a Russian fairy tale. But his eyes betray the hero's addiction to alcohol, inner emptiness and the most primitive selfishness. External majesty, designed exclusively to create a first impression, is destroyed by internal emptiness and primitiveness. The appearance ceases to be formidable. Before us is more of a comic character, without some tragedy."