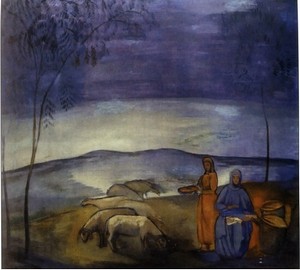 Description of the picture:
An evening in the steppe – Pavel Varfolomeevich Kuznetsov. 1912. Oil on canvas. 96.7×105.1
One of the leading masters of the Blue Rose, P.V. Kuznetsov (1878-1968) traveled to Central Asia in 1912-1913, bringing back from the trip memories of the life of the eastern peoples and works that captured a lot of what he saw. In the picture "An Evening in the Steppe" the artist depicted a scene from the life of Kyrgyz nomads. Women are busy with everyday activities, sheep graze peacefully, peace and silence are poured around.
Resting nature and man are in harmonious unity. There are no unnecessary details in the composition: only earth, sky, thin trees, several sheep and two female figures shrouded in soft light; there are no specific topographic or ethnic characteristics here, due to which the boundaries of the depicted are pushed to universal proportions. The space is approaching convention, light wide strokes as if convey its calm and even breathing."