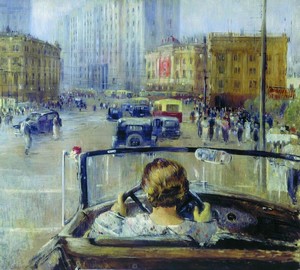 Description of the picture:
New Moscow – Yuri (George) Ivanovich Pimenov. 1937. Oil on canvas. 140×170
Since the mid-1930s, Pimenov (1903-1977), one of the founders of the Easel Workers' Society, worked on a series of paintings about Moscow, among which the New Moscow canvas became especially popular.
Artists with sincere enthusiasm worked on the creation of a new Soviet mythology, which required other forms. Painting "New Moscow" quite consistent with the spirit of the times. In the foreground is a woman driving a car, which is an unprecedented phenomenon for the 1930s. The viewer seems to be sitting behind her and watching the morning renewed Moscow from an open car. The monolithic bulk of the newly erected Gosplan building, the free avenue and the expanse of squares, the scarlet letter of the recently opened metro – all this is a renewed Moscow.
The impressionistic style of writing informs the work of freshness and elegance – that is how the new capital, and with it the new Soviet life, should have been perceived. However, the year of creation of this canvas is clearly contrary to the optimistic theme of the "bright path"."