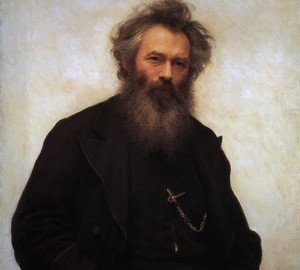 Description of the picture:
Portrait of the artist I. I. Shishkin – Kramskoy. 1880. Oil on canvas. 115.5×83.5 cm
Shishkin's work in Russian landscape painting is a unique phenomenon. The beauty of the Russian land in all its diversity and versatility has never sounded so bright from canvases.
Kramskoy really appreciated Shishkin the artist and Shishkin the man. Three times he painted portraits from him. This work is later, Ivan Ivanovich Shishkin is here forty eight years old.
The painter refuses from any background and from unnecessary details (they are present in previous works) – nothing should interfere with the monumental figure of the hero, freely located in space.
Kramskoy as if wants to give an answer to the question – what is Shishkin? His mighty appearance with a graying beard and lowered shoulders against a neutral background gives an eloquent answer – "a man-school", "the king of the forest", "a strong pine covered with moss". All these epithets accompanied the creator of the epic "Rye" and "Ship Grove" during his lifetime. At the same time, one cannot help but notice the soft look from the narrowed eyelids, which glows with warmth and kindness.
As a result, Kramskoy managed to create an amazing portrait, which in its conciseness depicts, embodies the multifaceted nature of the great landscape painter – a strong man, a wise man, a romantic in his feelings and a realist in technology, a contemplator, and great Russian talent."