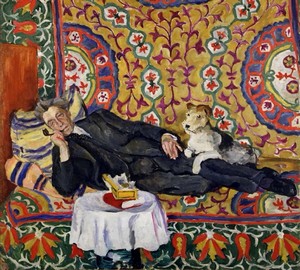 Description of the picture:
Portrait of V. E. Meyerhold – Pyotr Petrovich Konchalovsky. 1938. Oil on canvas. 211×233
During the period of mass repression, shortly before his arrest and death Meyerhold, P.P. Konchalovsky (1867-1956) created a portrait of this outstanding theatrical figure. For director-reformer Vsevolod Emilievich Meyerhold, one thousand nine hundred thirty eight began dramatically: on January 7, the Committee on Arts adopted a resolution on the liquidation of the Meyerhold State Theater (GOSTIM).
To emphasize the conflict of personality with the surrounding reality, creating a portrait of the director, the artist used a complex compositional solution. At first glance it seems that the dreamer is depicted on the canvas, whose dreams are embodied in colored patterns that cover the entire wall and sofa to the floor. But, taking a closer look, one can guess the painful apathy of the model, estrangement from the outside world. It is through the juxtaposition of a bright carpet, densely covered with ornaments, and a monochrome figure of the director, who is deliberately caught and entangled in bizarre bends of patterns, Konchalovsky reveals the image."