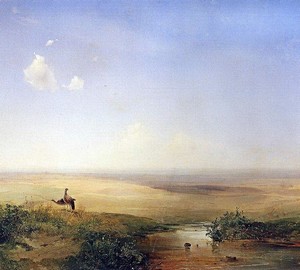 Description of the picture:
Steppe in the afternoon – Savrasov. 1852. Oil on canvas. 73.5 x 104.5
A lot of light, a lot of breathing, a lot of freedom – the first thing that comes to mind is just to look at the famous steppe by Aleksey Savrasov. The idea of ​​the plot came to the painter in the early 50's after he toured the southern provinces of Russia and Ukraine.
The picture is distinguished by a smooth, delicate drawing and a neat, delicate technique. The artist exclusively uses the palette to fully reveal the magic of color. The tenderness inherent in the picture does not diminish its harmony in the composition – the smooth color transitions of the sky, plunging into the golden expanses of the vast steppe, invariably create a complete, finished image.
The canvas demonstrates Savrasov as a mature landscape painter. The plot is not replete with elements – only the sky, the steppe, the narrow channel of water, and the figures of birds. But how skillfully the master uses paints and technique to make the picture look interesting and "catch" the look!
Savrasov's landscapes are an attempt to find the most moving, the most spiritualized, intimate moments, Levitan assured, and, of course, this picture only confirms the artist's laudatory words."