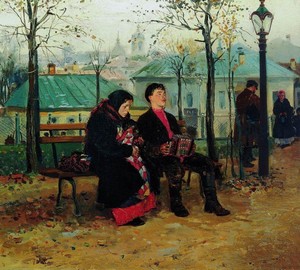 Description of the picture:
On the boulevard – Vladimir Egorovich Makovsky. 1886-1887. Canvas, oil. 53×68
The painting "On the Boulevard" It was written in one thousand eight hundred seventy seven and is dedicated to one of the most acute problems of Russia at that time – the forced departure of peasants to the city to earn money, which ultimately led to the breakdown of the traditional way of life of Russian villages: the breadwinner of the family was torn off from elderly parents (roots), wife and children ( family), the delicate connection between them was lost or weakened, and all this led to the death of the patriarchal world.
The heroes of the canvas are a young husband who is earning money in the city, and his wife and child, who came to him from the village. They have nowhere to stay and talk together except here, on the street, on the boulevard, but the husband, it seems, is not at all interested in his missus. He carelessly plays the harmonica. A fat, tipsy, "urban" husband fell apart on a bench, famously breaking his cap, as if he was not interested in anything other than his own person. The poor woman, bent over from sadness and hopelessness, does not recognize her beloved. A simple plot contained a lot of sharp thoughts and observations of the author, which filled the whole, at first glance, a simple and small plot, and the most important of them is the imminent death of the patriarchal world."