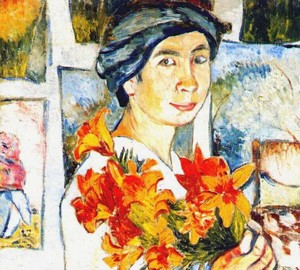 Description of the picture:
Self-portrait with yellow lilies – Natalya Sergeevna Goncharova. 1907. Oil on canvas. 58,2×77
N. S. Goncharova (1881-1962) – one of the first "Amazons of the avant-garde", a female artist of a new formation – this is her self-portrait, which was painted in her workshop in Moscow, and her works of the impressionist period are presented in the interior. The canvas is written expressively, swift strokes resemble Van Gogh's painting. The image is bright and lyrical, flowers give him a special poetics – a bouquet of lilies that hugs Goncharov. It also serves as a coloristic accent, a bright red spot that stands out against the general background of the canvas."