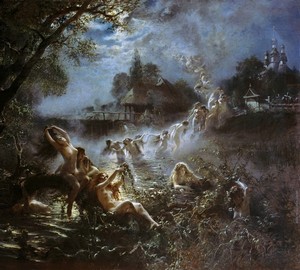 Description of the picture:
Mermaids – Konstantin Egorovich Makovsky. 1879. Oil on canvas. 261.5×347 cm
Russian art has always turned to its history. Ancient pagan rites, legends, and beliefs enjoyed no less interest among the painters. In them, the authors saw a storehouse of new subjects, as well as the opportunity to experiment with technology and composition.
One of the most alluring folk characters is mermaid girls who live in river waters and sometimes go ashore on a moonlit night. These are drowned girls, suicides, and some believed that they were ugly with a large body and tangled hair, while others insisted on the insidious beauty of river nymphs, which can be very dangerous, especially for men.
I. Repin, I. Kramskoy dedicated their paintings to mermaids, and Konstantin Makovsky did not stand aside, offering a completely different interpretation of his heroines.
If on the canvas of Kramskoy the mermaids appear to the viewer as unhappy spirits in long white shrouds, personifying their sad fate, then at Makovsky they are beautiful witches who spin in a bizarre dance. Each figure is elaborately curved and presented in an unusual perspective, and moonlight sparkles glisten on matte leather. The whole picture "breathes" mysticism and some kind of mystery – the spectator involuntarily became a witness to this mysterious dance-ceremony.
The composition of the picture gives rise to all this unstoppable dynamics. A sensual whirlwind of naked beautiful bodies takes off from the water to the lunar disk.
This spectacular plastic of the river maidens did not find a response from critics – V. Garshin and V. Stasov spoke too negatively regarding the "Mermaids". However, discussions of this work were so stormy that Emperor Alexander himself decided to visit the exhibition, although before that he was more than calm about genre painting. The emperor liked the picture.
Today we can be completely in solidarity with Alexander – a finely selected palette, an unusual composition, carefully written out images and fantastic scenery cannot leave anyone indifferent."