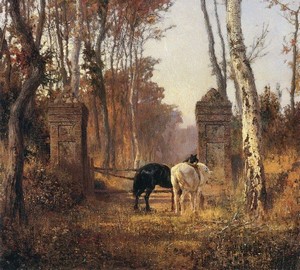 Description of the picture:
Spring – Kuzma Sergeevich Petrov-Vodkin. 1935. Oil on canvas. One hundred eighty five x 156.5 cm
The first impression of the picture is a simple plot and performance, similar in style to almost popular print primitive painting. But one has only to take a closer look, as the depth and numerous references to various directions in the fine arts are revealed in the canvas.
With the external modesty of the plot, the picturesque characteristics of the picture are magnificent. The color scheme and the selection of shades, even the writing technique, is somehow immediately reminiscent of the work of some impressionists. A close examination of the foreground of the canvas reveals the geometric shapes of the calcareous slope on which the couple in love sits. In this you can see traces of the influence of cubism. Even the somewhat strange and improper placement of miniature houses in different places of the canvas sends the audience to the early creations of the surrealistic sense.
The plot of the picture is eternal, like life itself. Spring is a time of awakening not only the forces of nature, but also love, passion, the desire to find your other half. Two – a man and a woman – Adam and Eve of our day. A cute modest girl in a simple blue dress and an equally inconspicuous young man on the open hillside is the embodiment of all couples in the past and future. The cold blue tone of the woman's dress is contrasted with the bright yellow shirt of the man, the contrast of these colors is emphasized by the woman's scarlet beret. But all these open colors are extinguished by the lyrical, even benevolent mood of the surrounding nature, written by the artist in gentle lilac-pink tones. Even the lush spring greens here are as if slightly shaded, covered in misty haze.
The deliberate unnaturalness of the landscape and the strangeness in the placement of the houses of the village were created specifically to show how lovers literally soar over reality. At this moment, there is no surrounding world for them; only they exist and their born, still timid feeling."