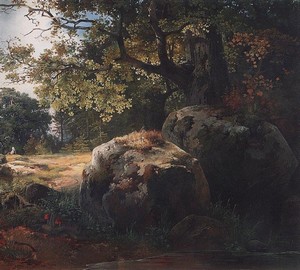 Description of the picture:
View in the vicinity of Oranienbaum – Alexei Kondratievich Savrasov. 1854. Oil on canvas. 78×118
Severe, modest and mysterious Finnish nature. The viewer is presented with an ordinary cloudy day, an ancient oak tree, two huge boulders, a picturesque stump. In the distance, a female figure can hardly be guessed, and even further, a snow-white yacht runs along the sea. The viewer creates a strange sensation, as if the gray landscape under an oak tree is watching the whole landscape. Fantasy turns lifeless stones into huge fantastic animals, sheltered by the branches of a centuries-old tree. Clouds complete the fairytale atmosphere, almost completely covering the blue sky.
You involuntarily think about what will happen when a woman reaches the boulders. Numerous mythological stories about abductions come to mind.
The color scheme of the picture is restrained and muted. Gray boulders, light green foliage, yellow path. Light, which is still abundant, floods the clearing, and tries to illuminate the boulders.
Brown clay coast, islands of grass, two red flowers … Or maybe the goblin's eyes, cunningly looking at the viewer. In this work, everyone can see something of their own, special, invisible to others."