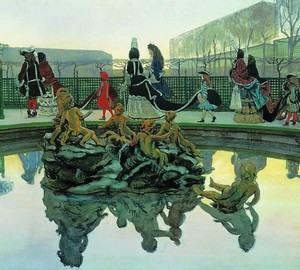 Description of the picture:
Walk of the king – Alexander Nikolaevich Benois. 1906. Paper on canvas, watercolor, gouache, bronze paint, silver paint, pencil, pen, brush. 48×62
Benoit (1870-1960) was an artist, theorist and art critic; he wrote many monographs and studies devoted to individual artists and the history of art in general. The work of Benoit-artist is mainly devoted to two topics: "France of the era "sun king""And" Petersburg of the 18th – early 19th centuries ", which were embodied in a certain type of historical painting, creating a special" retrospective "look at the past.
Describing the King's Walks, the author ignored nothing: neither park views with garden architecture (they were written from nature), nor theatrical performances, very fashionable in ancient times, nor everyday scenes drawn after a careful study of historical material. "Walk of the King" is a very spectacular work. The viewer meets with Louis XIV, walking through his brainchild. In Versailles, autumn: trees and shrubs threw off foliage, their bare branches look lonely in the gray sky. The water is calm. It seems that nothing can disturb a quiet pond, in the mirror of which are reflected both the sculptural group of the fountain and the orderly procession of the monarch and his entourage."