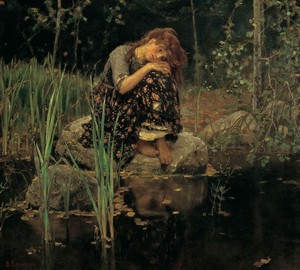 Description of the picture:
Alyonushka – Victor Mikhailovich Vasnetsov. 1881. Oil on canvas. 173×121
Alyonushka, a sad girl at the pond, is one of V. Vasnetsov's favorite paintings. The artist successfully uses a fairy-tale plot to reveal a complex and ambiguous Russian character.
The sadness of the girl is very adult. The sadness in her eyes borders on despair. Uncleaned red hair, dark eyes, soft scarlet lips – form an easily readable image of a child with a difficult fate. In Alyonushka there is absolutely nothing fabulous, fantastic. Actually, all the fabulousness of the plot is emphasized by only one detail – a group of swallows sitting above the head of the heroine. With this symbol (as you know, the swallows symbolize hope), the artist balances the image of the heroine, full of melancholy, gives hope for a happy ending to the old Russian fairy tale.
Vasnetsov filled the background landscape with an atmosphere of silence and sadness. The artist successfully worked out the water surface of the pond, reeds, sedge, spruce. Everything is motionless, quiet, calm. Even the pond reflects the heroine very delicately, slightly. Young aspens tremble a little. The autumn sky is scarcely frowning. The dark, green tones of the landscape contrast with the blush on the heroine's face, and the autumn sadness with bright colors on Alyonushka's skirt. The viewer feels: another moment and the tale continues …"