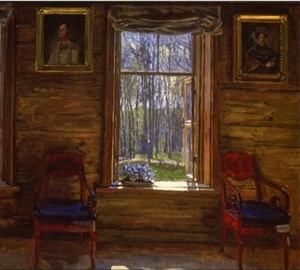 Description of the picture:
Joyful May – Stanislav Yulianovich Zhukovsky. 1912. Oil on canvas. 95.3×131.2
S. Yu. Zhukovsky (1875-1944), Russian artist of Polish origin, in the picture "Joyful May" depicted the interior of a country house, the open window of which bursts into a warm sunny May day, transforming the whole room with a play of light.
Old wooden walls, Empire-style chairs with blue upholstery, placed along them between the window openings, and portraits of the inhabitants of this house who have not been alive for a long time can tell a lot. The interior is motivated by deep nostalgia. Everything breathes in the past, but the joyful light that spreads throughout May muffles minor notes and makes this interior come to life a little. Blue flowers on the illuminated windowsill – as a symbol of the renovation that has come to the old house, characteristic of all nature."