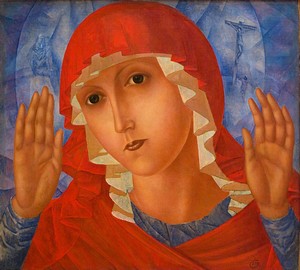 Description of the picture:
Our Lady of Tenderness of Evil Hearts – K. S. Petrov-Vodkin. 1914-1915. Canvas, oil. 100.2 x one hundred ten cm
Over the course of his life, Kuzma Petrov-Vodkin repeatedly recreated the images of the Mother of God – at first it was the church apse of the Orthopedic Institute in Alexander Park, after many years, murals in the Cathedrals of Kronstadt and Sumy, and, finally, the easel work "Our Lady. Tenderness of Evil Hearts ", completed in 1915. Some are inclined to consider this picture as a kind of response of the author to the events of the First World War.
An attentive viewer will immediately notice the "roll call" of this picture with the icon already in the title: in iconography there is a type of icons "Softening of evil hearts", however, the painter deliberately replaced the first canonical word with "tenderness".
It is amazing how much the image in its grandeur does not correspond to the real size of the canvas – a small picture looks incredibly monumental and solemn. And the matter, of course, is in the image itself, recreated by the painter. A meek, calm, wisdom-filled gaze seems to penetrate the very soul of the viewer.
The virgin in a red scarf raised her hands in order to reassure and bless any beholder. This is one of the most penetrating and exalted images in the work of Petrov-Vodkin, and a unique example of the interpretation of easel painting of iconographic canons."