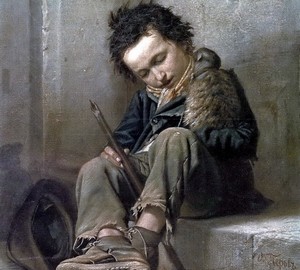 Description of the picture:
Savoyar – Perov. 1864. Oil on canvas. 40.5×32.2
During his trip to Europe, Perov worked hard. Inspiration seemed to have left him. Each smear was difficult. Finding himself in a foreign environment for him, the artist is trying to study mores and customs. He is a regular at fairs and festivities. He is attracted to the characters of streets and squares: organ grinders, roving jugglers, acrobats and dancers. During one of these "hiking in the people" he saw a small Savoyard. So called in Europe, Swiss wandering musicians who wandered with the same flute and trained groundhog in the cities and villages of the rich countries of the continent.
Before us is a very young tramp. The artist managed to convey the extreme degree of exhaustion of the child, the difficult fate and tragedy of life itself. Tattered panties, worn shoes. In the hands of a broken flute – the result of a collision with competitors in street entertainment. A faithful marmot, hungry and emaciated no less than the owner, snuggled up to the boy in order to somehow warm himself. Hat designed more for collecting "fee"is empty. So today a couple of poor fellows have failed to earn.
Powerful pavement and high sidewalk emphasize the fragility and defenselessness of Savoyard. A faded shawl, tied around the neck of a small artist, is the only thing that betrays in it belonging to the artistic workshop. Tousled hair, pallor, a half smile, inspired by a happy dream – make the viewer's heart break from sympathy and pain for the fate of the boy in a cruel world."