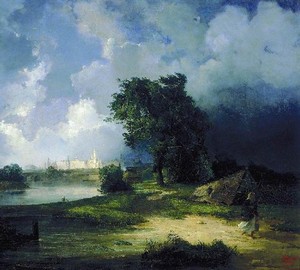 Description of the picture:
View of the Kremlin from the Crimean bridge in inclement weather – Alexei Kondratievich Savrasov. 1851. Oil on canvas. 67×90
Mysterious, simply fabulous looks the ancient Kremlin in the rays of the inferior sun. The White Palace and the bell tower still bathe in the light. However, a black, heavy cloud will inevitably cover everything around in a few minutes.
Contrasting in the Kremlin, in the foreground stands a fishing hut, huts with roofs covered with moss are visible. A woman with a bucket in a hurry to hide from the oncoming bad weather. The dark greens of trees and bushes have already prepared to receive the long-awaited heavenly moisture.
Work is devoid of time. In the manner of presentation and color scheme, the influence of the Italian romantic school is felt. The play of light and shadow, a rich colorful palette and composition, fill the picture with a pre-storm atmosphere and a sense of expectation.
The sky, which occupies a large part of the canvas, best conveys the grandeur and inevitability of the elements, which have a beneficial effect on nature and enable people to think about their place in the world, about their capabilities."