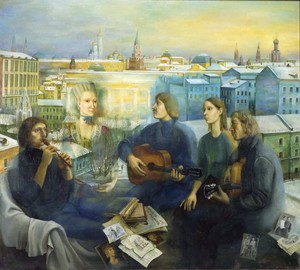 Description of the picture:
Moscow evening – Tatyana Nazarenko. 1978. Oil on canvas. 160×180
Painting "Moscow evening" painted as a group portrait of the artist's friends. The background is not the interior of the workshop (where the meeting takes place), but the Moscow landscape, where the domes of Cathedral Square and the Kremlin can be seen behind the houses of modern buildings. On the table in front of friends are old photographs, miraculously preserved numbers of long-published magazines, reproductions of pictorial portraits. Young people, inspired by these news of a bygone era, were mentally transported to the century when the heroes of these photographs and the models from which the portraits were painted were alive …
And a new character enters into the circle of pensive friends – as if revived by their recollection, Elizaveta Petrovna Cherevin from a portrait by artist Grigory Ostrovsky. Exactly two centuries share this mysterious vision with a society gathered in the workshop … The artist reflects on the running of time, the inexorability of history and the irresistible gulf between the past and present of the country, its culture and art."